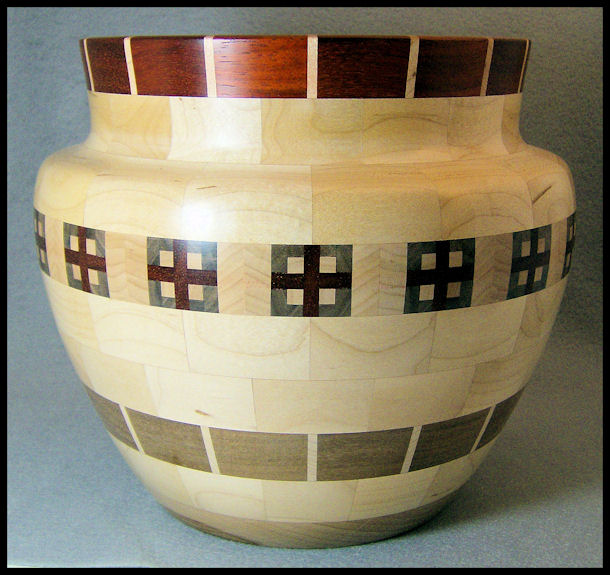 Large Vase : 9"High x 10" Diameter
HOW# 10-1a
Made up of 417 individual pieces of wood.
Features: Maple, Walnut, Cherry & Paduak
This example is in a private collection but this design can be replicated. Price $ 1450

---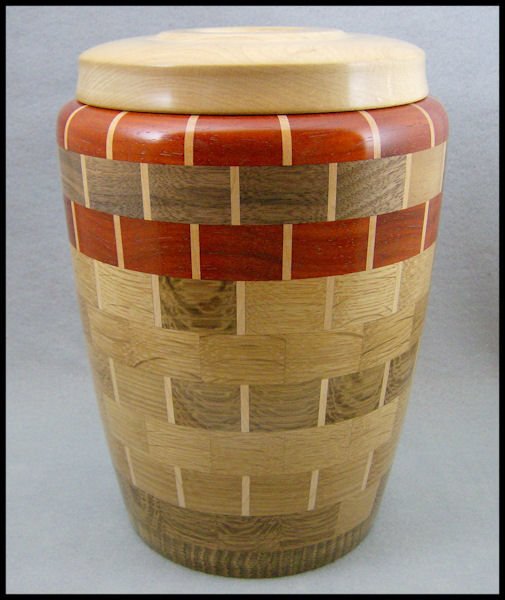 Craftsman #3 Urn 10" high x 7" dia. HOW# CR3-U
243 pieces Quarter sawn white oak, Maple, Walnut, Cherry & Paduak
Price : $600
---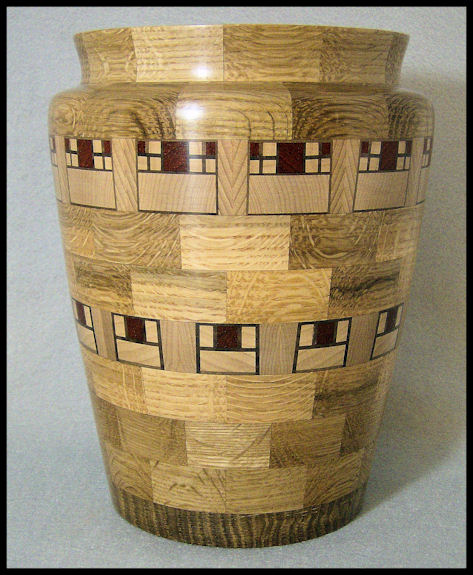 Large Craftsman inspired vase. HOW # CRSG-10
Approx. 10" High x 8" Diameter
Made up of over 500 individual pieces of wood.
Features : "Stained Glass Window Motif " in a pair of Accent rings.
Quarter sawn white oak, Walnut, Maple, Beech & Paduak
$1250 as pictured
Lazer engraved Urns

Personalized engraving and surface treatments are available.
The Urn below shows some examples of the various types of treatments which are possible.
This includes plain and fancy text engraving, laser etched artwork which is hand tinted and relief carving.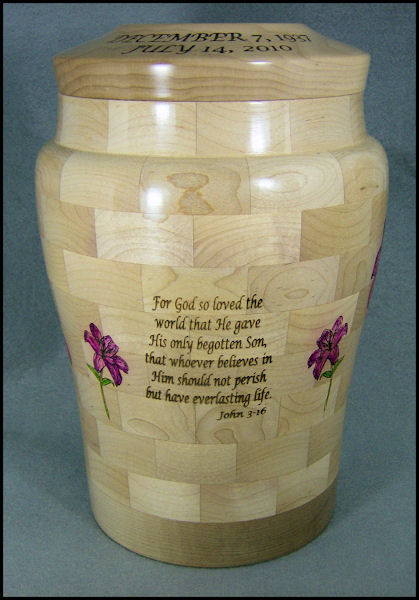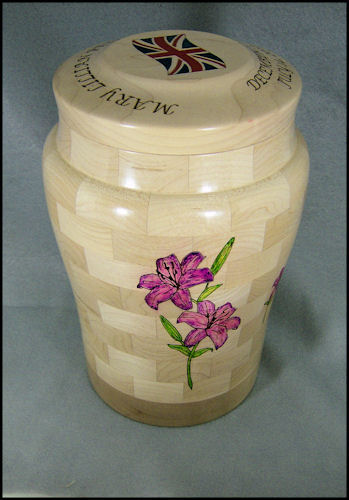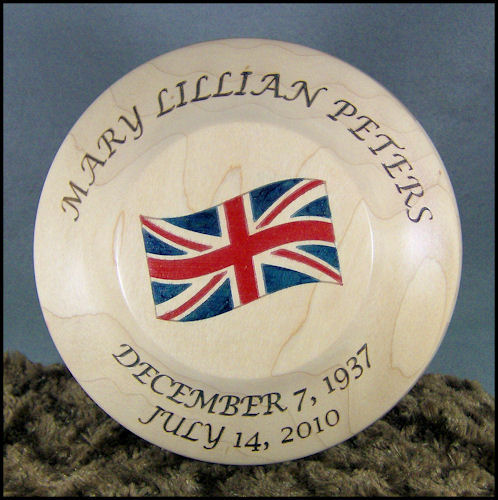 ---
Inspiration
The inspiration for the creation of these turnings comes from my relationship with my father.
When I started turning wood many years ago he was a source of constant encouragement.
Now that he has passed on I still draw upon his comments and the spirit in which they were always given.
For me there is nothing else quite like the process of creating art on the lathe.
When I am working on these pieces it as if he is standing over my shoulder.


The artistic process
The sculptural forms of bowls and vessels have always been of special interest to me.
For a long time I allowed the solid wood blanks I used to determine and in fact limit the shapes and appearance of
my end product. While I enjoyed the process I always felt like I was being held back.

My progression into these segmented woodturnings has opened up an almost unlimited range of design possibilities.
With careful planning and execution it is possible to get results which far exceed the limitations of a single piece of wood.

Design & Construction

These vessels are created by a process of designing and constructing a turning blank in layers.

Each layer is made up of a number of precisely cut segments.
Depending on the design the segments themselves may be a single piece of wood or they may be made up of several pieces.
Once assembled the resulting turning blank contains all of the elements which will make it visually unique.
It is at this point the sculptural shaping begins.
A variety of techniques and tools are employed to "unlock" the final shape of the vessel.

Each of these vessels is then hand sanded. They are sealed and finished inside and out.
The final finish is then waxed and hand buffed to bring out the luster in the various woods used.
Because of the natural variations in species and grain and the fact that these are hand shaped, no two pieces are identical.

Handcrafted turned wood Urns
Each of the urns I make are carefully crafted keepsakes meant to evoke memories of our loved ones that have passed on.
Every urn is unique ..... just as every soul on earth is.


I hope you enjoy these vessels as much as I enjoy making them.
Please Bookmark this page as I will be adding many interesting new pieces in the upcoming months.

Jeff Balazs

---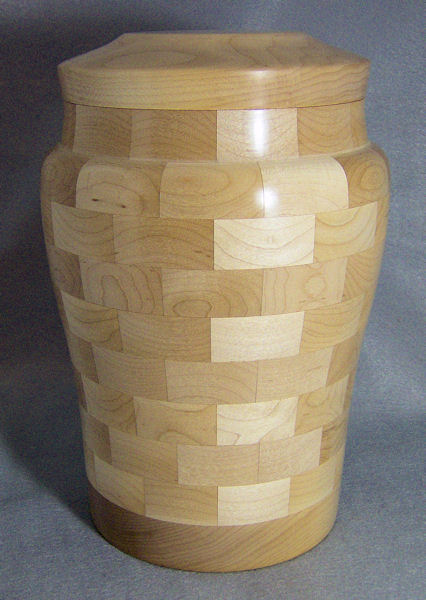 Above : Classic Maple Urn : 7 1/2" dia. x 11 1/2" H
North American Hard Maple
Made up with 110 pieces. Screw on lid
$ 575 as shown. Can be laser engraved.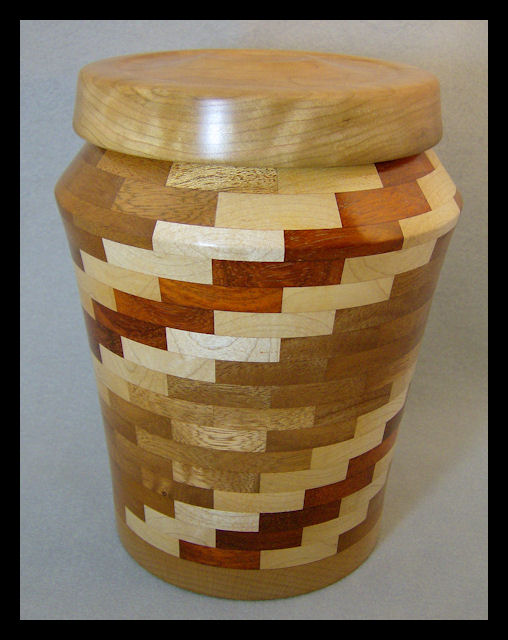 "Stepped" pattern Urn HOW #ST-U-1
Approx. 9" high x 7 1/2" in Diameter. Screw on lid.
Cherry, Quarter sawn Sipo Mahogany, Maple & Paduak
Made up from 206 pieces of wood. Price : $600
---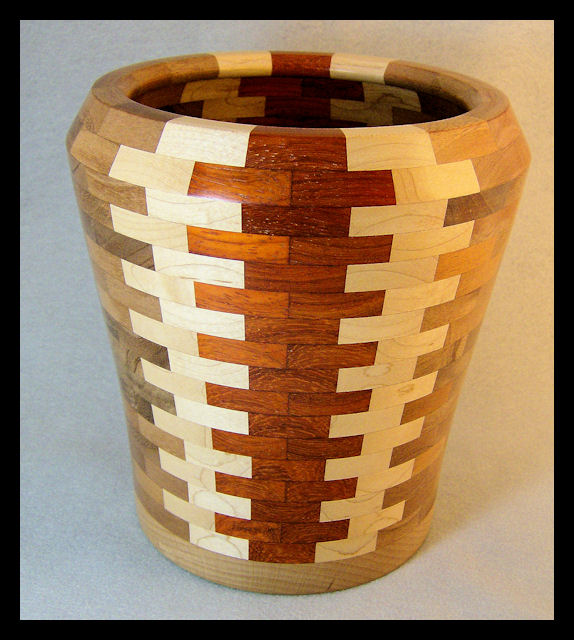 "Ladder pattern" Vase HOW # L-2a
Approx. 8" high x 7 1/2" in Diameter
Beech, Quarter sawn Sipo Mahogany, Maple & Paduak
Made up from 274 pieces of wood. Price $550
---
Large Bowl : 7 1/2" tall by 9 1/2 in Diameter HOW# CRSG-5
Craftsman inspired "Stained glass window " design motif
Quarter sawn white oak, Walnut, Maple, & Paduak
449 pieces Price : $1100
---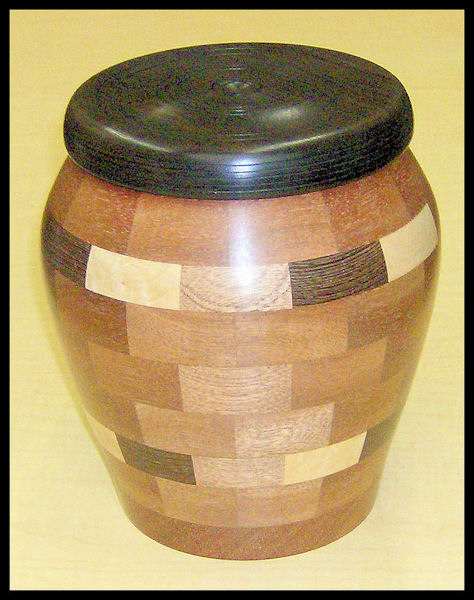 Urn : 11" high by 7 1/2" in diameter.
HOW# U-3
Quarter sawn Sipo mahogany, Maple, Wenge and Ebony.
Features screw on lid.
This example is sold but the design can be reproduced. Price : $700
---