---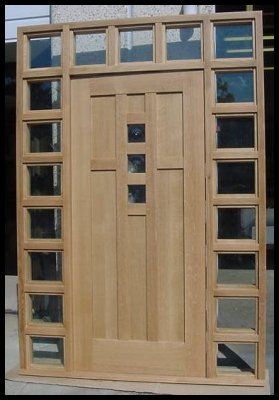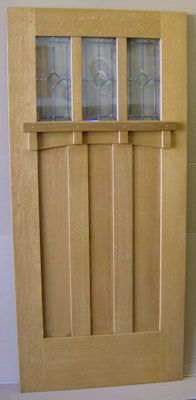 Handcrafted Entry Systems available in a variety of styles and sizes
Left : A 3-0 x 8-0 Harvey Ellis inspired entry door in unfinished quarter sawn white oak
Center left: Mahogany Greene & Greene #4 Entry system with sidelites and custom "Grape leaf" leaded glass
Center right : California Bungalow #1 Entry System with divided sidelites & transom
Right : A 3-0 x 6-8 California Craftsman 3 lite over 3 panel entry door in QSWO with custom leaded glass

---
We ship these doors and entry systems all over the country in specially constructed heavy duty crates.
Shipping is done at
actual cost
, crating and packaging is complimentary and our shipping record is unblemished.
There really is no need to settle for less than a perfect fit for your home. Please call us for a free quote.

---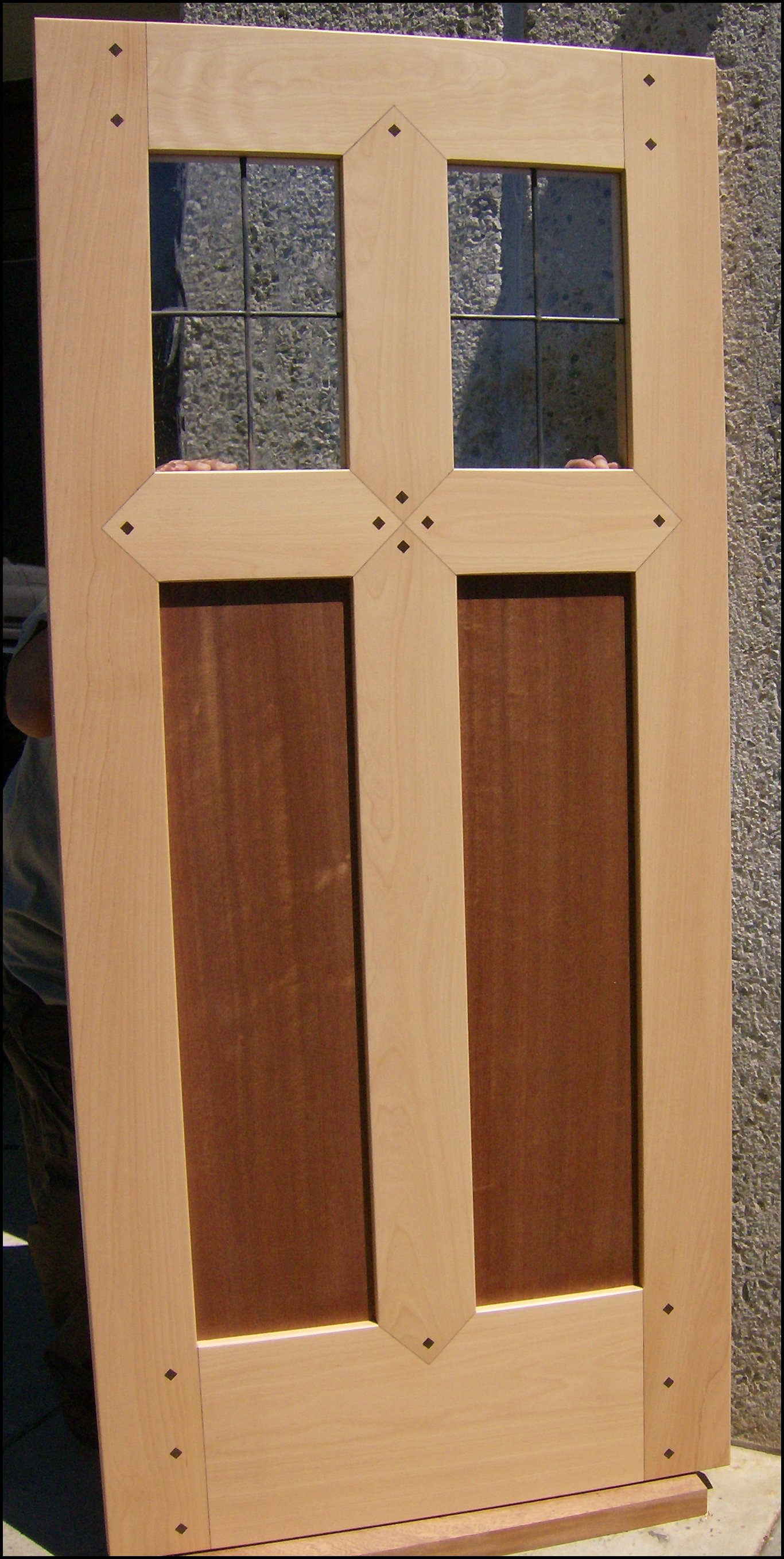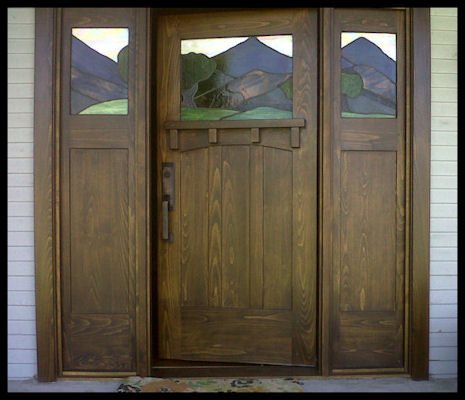 Left : 3-0 x 6-8 "Carpenters Cross" Entry door in European Beech with Mahogany panels
Center : 3-0 x 6-8 California Bungalow #1 Entry door in quarter sawn white oak with "Bullseye" glass
Right : 3-0 x 6-8 California Craftsman Entry system #1 with sidelites. Stained Beech with custom leaded glass
---
Some "Before" & "After" photos
A great example of how we can help improve your home.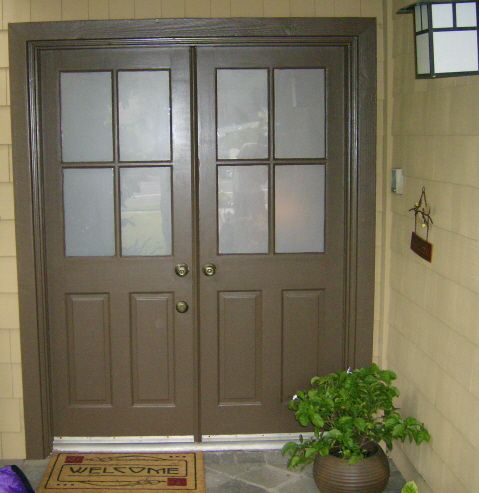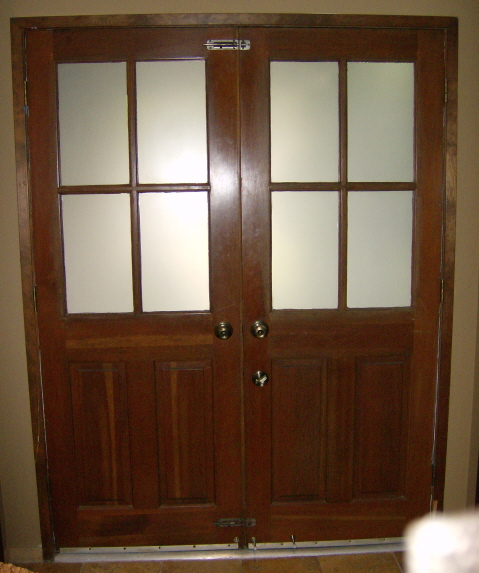 Before : Old and tired double doors......fresh paint hides a very real security issue!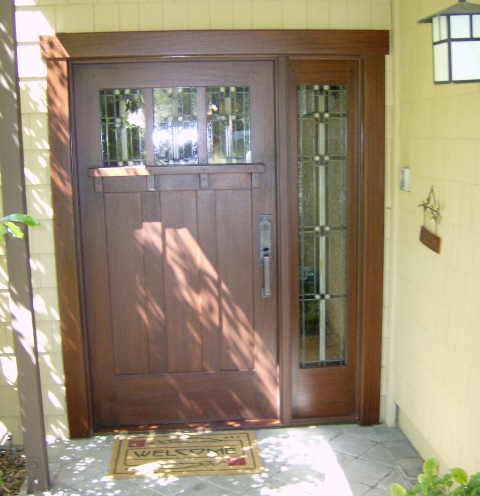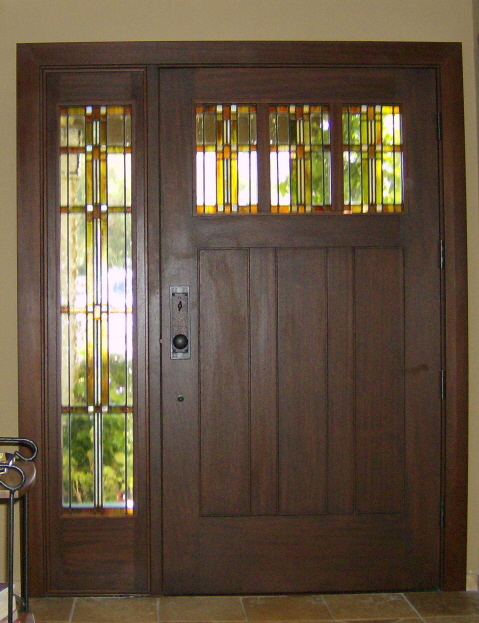 After : New Classic Craftsman 3 lite over 3 panel door & matching sidelite in solid Mahogany.
Double glazed with custom leaded glass on the interior and clear tempered glass on the exterior.
Features a heavy duty jamb assembly, Mortised lock set, Q-lon weather strip and a Pemko automatic door bottom.
Authentic detailing, energy efficient and totally secure.
---
Heart of Oak Workshop is particularly proud of the solid lumber mortise & tenon doors we
make. The superior fit and finish of these furniture quality doors really makes the difference between building an ordinary house and creating the ultimate Arts & Crafts home. These beautiful handcrafted doors are available in a variety of Craftsman & Mission styles as well as our very special California Bungalow and Greene & Greene influenced designs.


Since all of our doors are hand crafted there is no upcharge for unusual or non-standard door sizes. This means you can order a door from us that will fit directly into your existing jamb or rough opening.



All of the doors we make are available finished or unfinished. We make door slabs ready to be fit into existing lambs, or pre-hung with matching jambs. We also make entry systems complete with heavy duty jamb / theshold assembly, pre-hung door, weather-strip, and your choice of lock hardware and a variety of glazing options. Custom trim can be ordered for any of these doors.

Traditional mortise and tenon construction is without peer when it comes to making quality doors that will hold up to the rigors of day to day use. We invite you
to make the comparisons between our authentically made Arts & Crafts style doors and those of our competition. We are confident you will agree that the real beauty of our doors is more than just skin deep. They are without question the real thing and are sure to be a focal point of your Ultimate Bungalow.
Please see our door construction page to learn more about this subject.




Because each of our doors is handmade they can be made in any size you require. Our custom Craftsman and Mission style
entry systems feature matching stain grade jambs and thresholds. Entry systems which incorporate sidelites and /or transoms have jambs are typically constructed from 8/4 stain grade material to provide structural integrity and an authentic Craftsman appearance. Since we mill all of our own stock, special threshold or jamb configurations are available. Ask about our Custom trim packages. Matching brick or stucco mold is available.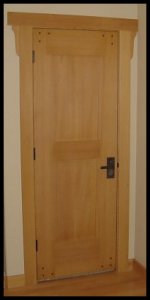 California Craftsman #2 style Entry and Interior Doors
This unique door design features tapered stiles with let-in rails
Shown in beautiful vertical grain Douglas fir
We regularly incorporate a variety of authentic Craftsman type details such as contrasting species plugs or square pegs.
How about a "Dentil" type accent shelf or some Arts & Crafts inspired leaded glass?
Other options include hand carved or laser etched panels. Need a "speakeasy" or a custom fabricated transom? Not a problem. How about custom trim kits? We have done hundreds of these in a variety of designs including personalized "theme" accents. Want opening sidelites or need a very wide jamb? No problem. We are happy to make whatever you need. Please see our Exterior Doors or Interior Doors pages for more information on some of the door designs we offer.
All the doors we make carry a Warranty.
Our product focus is on the designs of the Arts & Crafts Movement.
We build doors in any of the Arts & Crafts, Craftsman, Mission, Greene & Greene, California Bungalow or Prairie inspired styles. Need something unique? Want an historic design recreated? Fax or Email us a sketch or photo. Or have us design a door specifically for you home. Send us a door schedule or call us and we
will be glad to furnish a quote. In addition to the doors themselves we can provide matching pre hung jambs, sills, sidelights, transoms and trim kits. We offer Q-lon weather strip as a standard product on all our exterior doors.

All of our doors are available finished or unfinished. We are proud to offer the latest in high durability and environmentally sound products by General Finishes. We have adopted as our standard finish their latest Low VOC Polyurethane Varnish which we have found offers the ultimate in protection against the elements.
All of our topcoats are applied by an HVLP spray system for even coverage.

---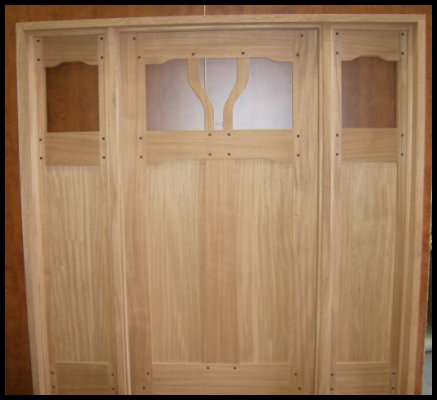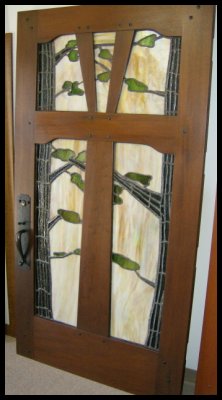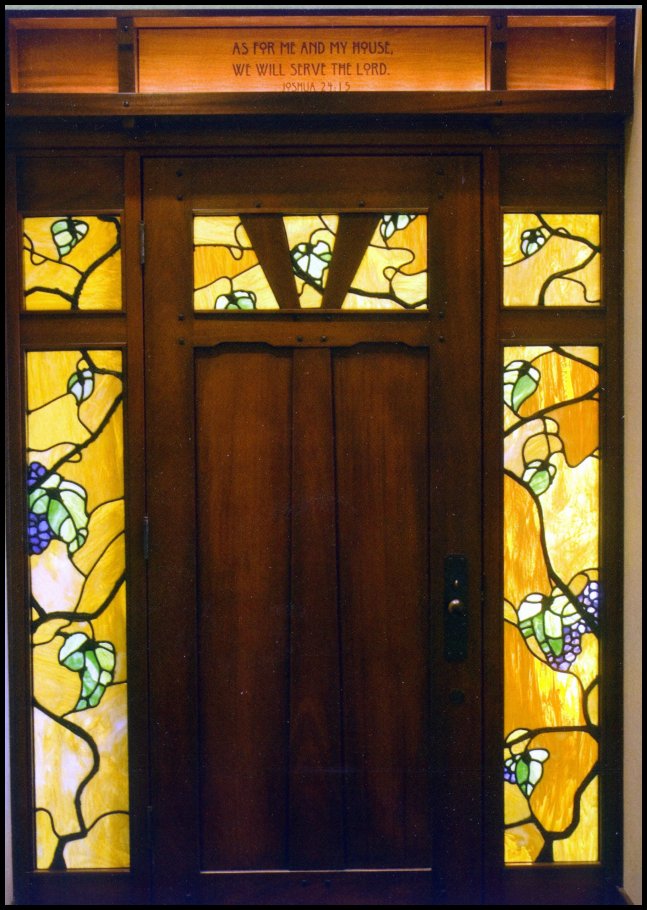 Greene & Greene inspired Entry Doors & Entry Systems
Available in any size or configuration you require.
Features the G & G classic "Cloud lift" and contrasting square pegged detailing.
Upper left : Greene & Greene # 3 Entry door in Sipo Mahogany
Upper center : Greene & Greene #5 Entry system with 2 lite sidelites and seperate transom in Sipo Mahogany
Upper right : Greene & Green # 1 Entry door with custom"cloud lift" leaded glass in Sipo Mahogany
Lower left : Greene & Greene # 6 Entry system in unfinished Sipo Mahogany
Lower center : Greene & Greene #1A entry door with custom "Coastal redwoods" leaded glass in Sipo Mahogany
Lower right : Greene & Greene # 4 Entry system with custom " Grape" pattern leaded glass in Sipo Mahogany

---
We offer a full range of competitively priced hardware from Baldwin, Emtek, Rocky Mountain
and Craftsmen Hardware. Please call us for more information on these products or visit our door hardware page.
Hardware installation can be done in our shop prior to shipment for any of these systems.
If you wish to supply your own hardware that is fine with us, and we will be happy to install it.

Leaded and stained glass designs are available and are handcrafted in our own studio.
We also offer a full range of conventional glazing options including dual pane, tempered and laminated glasses and obscure or etched glasses.

We ship local and cross-country regularly and offer this service to our customers at our cost.

These doors are a very popular item with homeowners interested in doing a makeover on their modern home or restoring their historic Bungalow to it's former glory. Call or contact me with your requirements for a free quote.
Jeff Balazs Owner, Designer & Craftsman
Telephone: (949) 461-9558 or Email : heartoak@ix.netcom.com

---
Please visit our Exterior Doors or Interior Doors pages to see more designs & options
---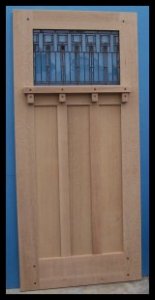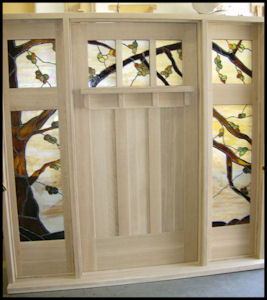 Classic Craftsman style entry doors available in any size and configuration.
Left : Quarter Sawn White Oak 6 lite over 3 panel Entry System with fixed divided sidelites
Center : Single lite over 3 panel Door with FLW inspired "Collanade" leaded glass
Right :

3 lite over 3 panel

Entry System with matching sidelites and custom free form "Oak Tree" leaded glass
---
---
Testimonials
Kay and Mike Brown of Southern California wrote on 5/31/07 :
Hi Jeff!
I can't believe I haven't sent you a message since we got the doors. Yesterday we had a plumber come over to check on a leak in the slab. When Mike opened the door the guy said that he had been going into homes for 22 years and that ours was the nicest door that he had ever seen!
I can't really think of the right word to describe them - but, the way I think of it is that I don't ever want to live in a house that doesn't have a door made by you.
When I open the door or the sidelights it is like opening the door of a church or a bank. I know you weren't crazy about putting screens on the sidelights - but, you have no idea how much we love them. With two sidelights that big, the fresh air and breeze that comes in makes the entire house cooler and since we don't use the air conditioning the difference is like day and night. Also, with the size of the sidelights it gives it almost a patio - like feeling when they are open. I want Mike to put some kind of water feature outside and we will be able to hear it all over the house. I just wanted to say thanks and let you know how much we love them.
Kay

Jennifer and Mike Mansbach of Santa Barbara wrote on 8/31/10 :
Hey Jeff;
I just could not wait to send you some photos! The door has bot yet been stained and the trim is not up but here is a first look.
We LOVE it and so does everyone that has come to the house in the past week. The leaded glass from the inside glows at sunrise and sunset and from the street the glasss shimmers and catches ones eye. My contractor is impressed with your work and just how solid the jamb assembly is and how substantial the door is. :-)
My husband, my two boys and I are just like kids at Christmas - we keep wandering into the entry way to see the door. What a wonderful transformation it has brought to our home. Thank you for your beautiful work!!
Best Jennifer
Jeff - Mike here, husband of my better half Jen, wanting to thank you for your extraordinary craftsmanship and your gift to us of this terrific door. Should you ever need a reference, you have it and we'll promote you endlessly in Santa Barbara. Well well done! Mike

---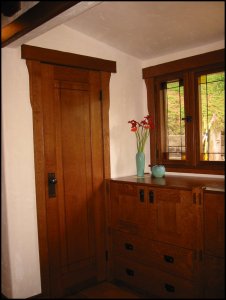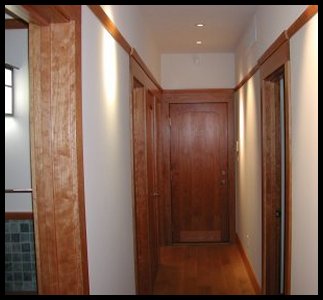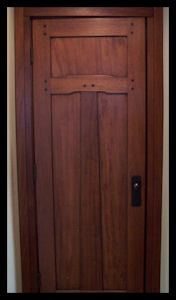 Custom Arts & Crafts inspired Craftsman, Mission and Greene & Greene style Interior Door & Trim Packages
Many styles, species and options available See our Interior Door page for more info.

---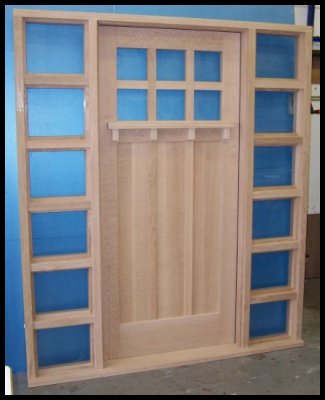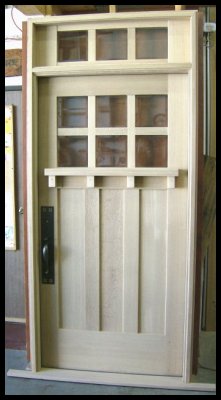 Ready to install Classic Craftsman Entry Systems
Available in any size or configuration, with or without glazing.

Sized to fit any rough opening.
Finishing and Hardware installation available.
Ships in heavy duty crate via common carrier.
Left : Unfinished QSWO Classic Craftsman 6 lite over 3 panel entry system with divided sidelites
Center : Mahogany Classic Craftsman single lite over 3 panel entry system with full length sidelites and leaded glass
Right : Unfinished QSWO Classic Craftsman 6 lite over 3 panel entry system with divided transom
---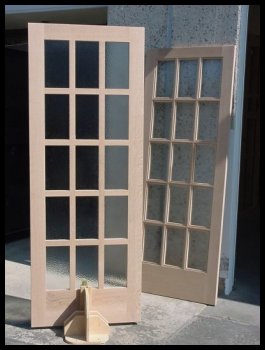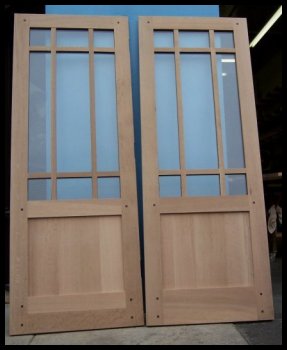 Exterior and Interior French doors available in any size, configuration or wood species.
A great way to bring some natural light into your Bungalow or Mission style home!


Left : 15 lite French door in unfinished QSWO

Right : 9 lite over single panel French door in unfinished QSWO



---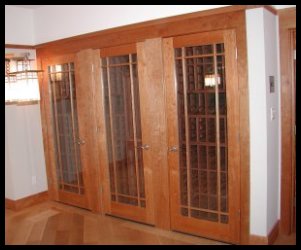 Custom Wine room Doors


Left : Mission style Cherry 9 lite French doors with Argon filled dual pane glass and matching trim kit.


Right : Harvey Ellis inspired door in quarter sawn white oak and triple glazed with custom free form leaded glass



---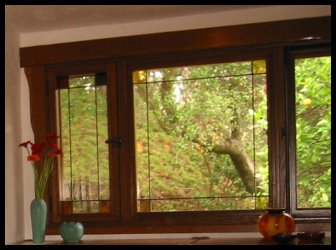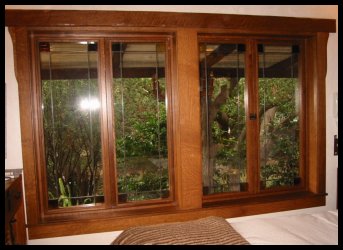 Handcrafted Mission style leaded glass windows in quarter sawn white oak casements &
custom trim.

Made to customer specifications with a combination of restoration and antique stained glass.
---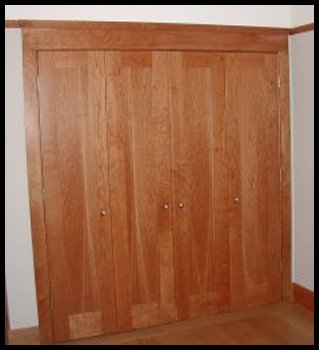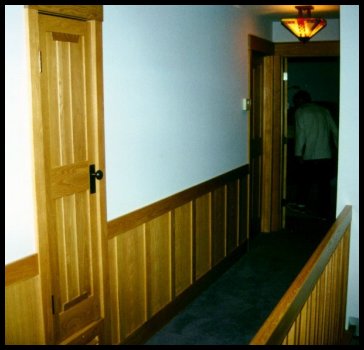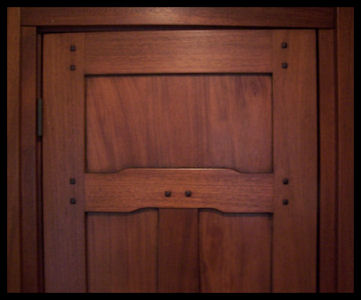 Doors for special applications
Left : Mission style Cherry bi-fold closet doors with matching trim kit.
Right : White oak Bungalow style furnace door with vent and matching wainscoting.
Right : Mahogany Designer #1A interior door on utility closet.
---
Custom designs and unique applications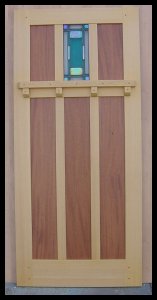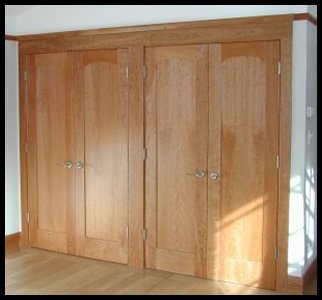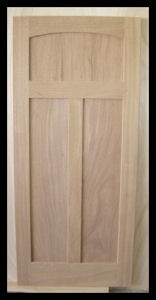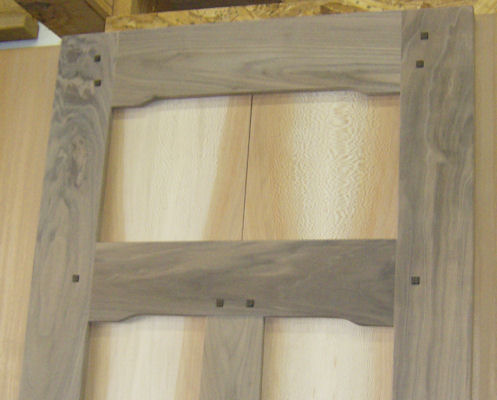 Whether it is a custom Craftsman style entry door in contrasting wood species,
a "His & Hers" Mission style walk-in closet doors or a classic Mission style interior door .......we can build it.
Please call us if you are looking for something unique.
---
.....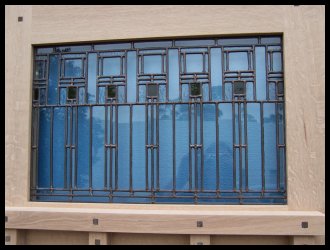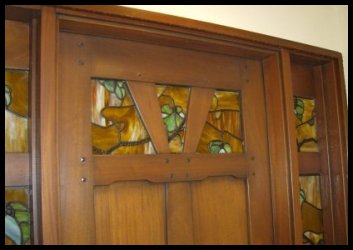 Some examples of custom leaded glass work handcrafted at

Heart of Oak Workshop


Upper left : FLW inspired Collanade Upper right : G & G inspired free form "Grape leaf & Grapes"
Below Left : G & G inspired free form"Cloud lift" Below right : G & G inspired free form "Coastal Redwoods"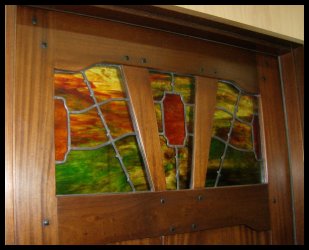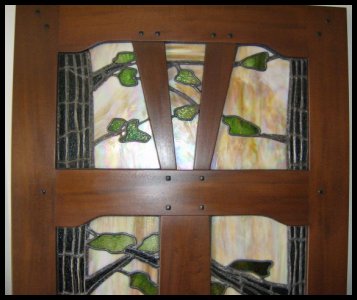 "California Mountainside" free form leaded glass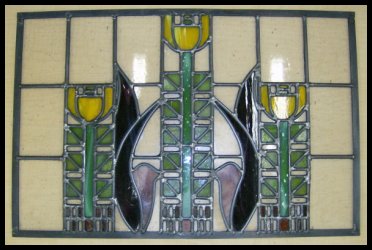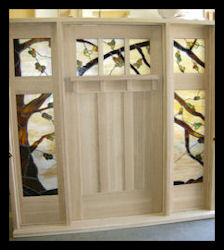 Left : Dard Hunter inspired Tulip & Dove pattern leaded glass
Right :"Oak Tree" free form leaded glass

---
FLW * CFA Voysey * Mackintosh * Mackmurdo * Ellis * Gill * Ashbee