---
We accept Visa, Mastercard, American Express
and Discover/ Novus cards and personal or business checks.
---
How we work
Heart of Oak Workshop is a full service design studio and workshop. Each door, piece of furniture or architectural woodwork element we create is made to order. While the majority of our work is done directly for homeowners we also accept commissions from Architects, Interior Designers, Home Builders and Shop Owners.
Our shop specializes in reproductions and adaptations of classic Arts & Crafts designs.
We do not work from a fixed catalog or carry stock merchandise.
All the designs you see on this site can be recreated as shown or revised as needed. If you are interested in a special design or item
for your home I am happy to work with you to create it.
To place an order or to make an inquiry please contact me at (949) 461-9558 Monday - Friday 7am - 5 pm
or email me any time at : heartoak@ix.netcom.com
I am available to meet with you on the Weekend or Evenings, please call ahead if you wish to make an appointment.
Jeff Balazs, Owner, Designer & Craftsman

Our shop is capable of recreating any design within the various styles which are considered to be of Arts & Crafts origin. This manner of operation allows us the flexibility and
creativity necessary to give our customers exactly what they desire.
In many instances we are asked to design and build pieces which showcase specific A & C design elements. We have found that most people have very specific ideas about how they want their home to look and feel. Our goal is to work with our customers to help them fulfill their needs.
This type of interactive design process has particular appeal to many of our customers. Sometimes a basic design is influenced by historic catalog reprints or books. In other situations we are able to further enhance existing design elements found within our customers home. This personalized approach is what makes us different from shopping at a conventional store.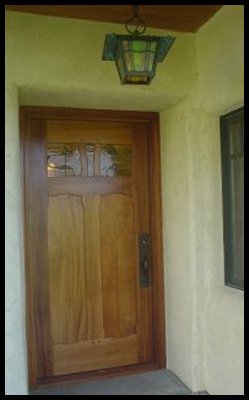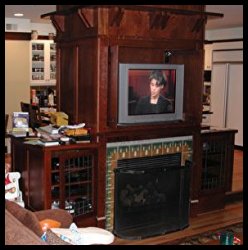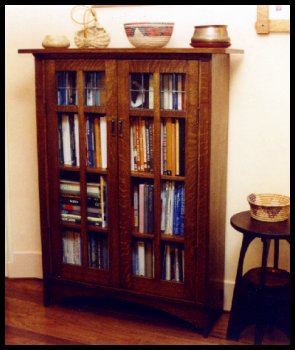 A sampling of finely crafted products which have been shipped t
o customers across the country
Our Craft
Most of the furniture and woodwork shown on these pages are adaptations of the original Arts and Crafts designers and craftsmen.
We design and adapt for our clients while staying true to the original craft.
All of our work is accomplished by using historically correct materials, methods of joinery and finishes.
For a detailed look at how we construct Doors please go to our Door Construction page.

Our suppliers' allow us to cull through each new shipment of quarter sawn white oak and select only those boards with a prominent ray flake figure. This figure is what Gustav Stickley and other manufacturers of the time relied on for ornamentation on this style of furnishings. We also utilize cherry, walnut, mahogany and other fine hardwoods in our designs.

Once we have our material selection complete, we then select specific boards for each element of our design. The selection process is based on the visual and structural integrity of the piece.
When the stock has been selected, the milling process begins. This involves jointing and planing the material as well as cutting to rough shape.
In any piece of furniture there
are a number of joints to be laid out. In Arts & Crafts furniture this usually involves mortise and tenon joints. Each of the mortises is marked and carefully chopped out
then the corresponding tenons are cut to fit. Each joint is then dry fit to insure it has the proper characteristics for strength and longevity.
Before final assembly, each piece of the furnishing is sanded with progressively finer grit sandpaper. This multi-step process is essential to the final finish and appearance. Final assembly involves glue up of each joint and installing pegs or keys where required. Another careful hand sanding is done to prepare for finish.
We offer a variety of finish coloration's and levels of protection. All the furniture we produce carries our shop mark and is signed & numbered.

This heirloom quality woodwork will most certainly be a part of your household for generations.

---
Ordering & Inquiries

---
Inquiries
We welcome all inquiries regarding our products and services.
Inquiries may be made by telephone : (949) 461-9558 Monday - Friday 7am -5pm
or email : heartoak@ix.netcom.com
Furnishings
Furniture orders generally take from 4 to 8 weeks to construct and finish. We require a 50% deposit on all furniture orders. This deposit is required once a final design is approved by you. The balance is due upon delivery ( if local) or prior to shipment. On orders which require shipping we offer free packing and freight tracking.
Doors and Architectural woodwork
These are custom made to order. Turnaround time on most door orders is generally 5 to 7 weeks. We require a 50% deposit with each order. The balance is due prior to shipment. Doors requiring shipment are carefully crated to insure safe arrival via common carrier.
On orders which require shipping we offer free packing and freight tracking.
---
Deposits
Due to recent changes in Credit Card processing regulations deposits for long lead time items (over 4 weeks) must be made by check.

Method of Payment
We accept Visa, Mastercard, American Express and Discover/ Novus cards. To place a credit card order please call (949) 461-9558 M-F 7 am- 5 pm. PST
We also accept personal and business checks.
---
FLW * CFA Voysey * Mackintosh * Mackmurdo * Ellis * Gill * Ashbee