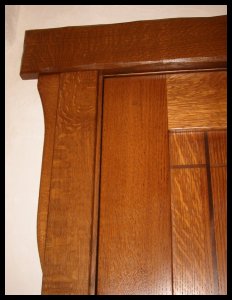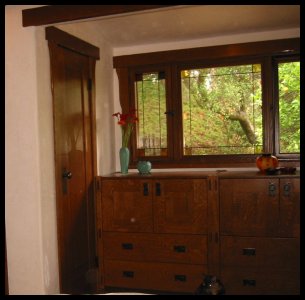 Some examples of our woodwork in a remodel & renovation of a historic 1912 Arts & Crafts cottage. A great deal of care and effort went into this
"sympathetic" renovation. I worked directly with the homeowners to develop details such as new doors and leaded glass windows, trim and casings and furnishings. All the woodwork was done in quarter sawn white oak and was stained and finished prior to arriving on the job site.
Small details abound. Such as the hand hewn header beams which are let-in to the plaster above each door. Or the use of restoration glass combined with fine antique stained glass in the new windows. Detailing like this made this little Mission style home really shine.

---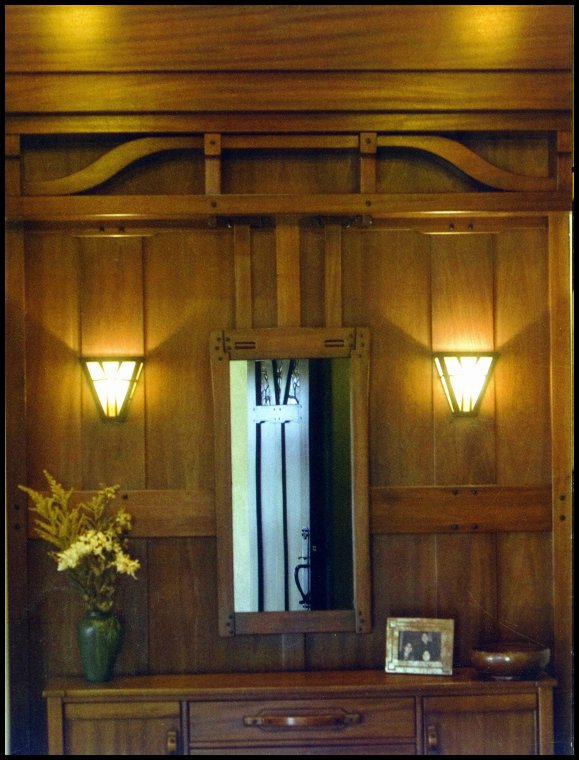 Recreating authentic Craftsman Era Interiors
The interior woodwork for the Arts & Crafts home is one of the main features that sets it apart from most other types of homes. There is nothing else quite like a one of the well appointed Bungalow Interiors to bring out the wood lover in all of us. The clean unadorned lines really allow the natural beauty of wood to speak to us. Whether it is in the form of the many Craftsman style bungalows that have been lovingly preserved around the country. Or in one of the fabulous ultimate bungalows of the Greene brothers this reverence for wood is certainly a huge attraction for most of us.

It was as a young boy growing up in the suburbs of Los Angeles that these special homes first caught my eye. I grew up in one of those tract homes that had
sprung up all over Southern California after the war. You know the ones...rows of identical boxes with little or no detail on the outside or the inside. My parents had collected modern danish walnut furniture so the home was not devoid of beautiful wood but the interior detailing was simply none existant.
To be honest I can't really remember much about that home now but what I can clearly recall is our visits to a Great Uncle's home in Santa Monica.

It was one of those Spanish Revival / Mission style bungalows that Southern California was so famous for. And rightly so. Even a small boy could see the
difference between this home and a tract home. It was loaded with beautiful details. A massive arched top entry door with leaded glass. Built-in glass front bookcases and china cabinets. Hardwood floors. It even had a variation of an Inglenook near the fireplace. And all this woodwork was in spectacularly figured
quarter sawn white oak. It was a terrific place which I usually had to be dragged away from kicking and screaming. When I think back about it now....old Uncle Joe was probably glad to see me leave so he could have his haven to himself. Over the years since I have visited and worked on many such homes. I still feel a pang when it is time to leave. To me and many others this type of home embodies everything that a real home should be.

I have had the good fortune to have been involved with many Arts & Crafts interiors since beginning this business. Sometimes in authentic Craftsman or Mission era homes and others times in brand new construction. It's always exciting. For me one of the greatest pleasures in life is to share a vision with a customer and
to be instrumental in making that vision into a reality.

Below are some examples of Arts & Crafts Interiors we have created.
These range from minor make-overs and remodels to new construction and restorations. I hope you enjoy these photos
and that perhaps they will help to inspire you to create your own haven.
For more Photos and Information please see:
---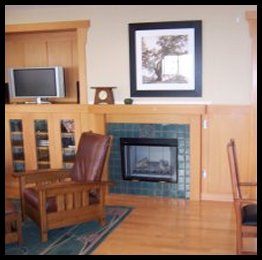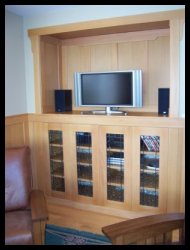 Upgrade to new Craftsman style home in south Orange County
Included doors, built-ins,wainscot & trim in VGDF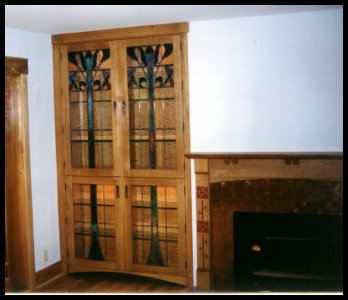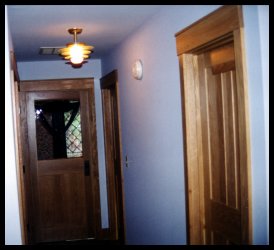 Mission style remodel to tract home in San Jose area
Included Exterior and Interior doors, door & window trim, built-ins & furnishings


New Craftsman style home in New Jersey
Included built-in cabinets, Entry System and exterior doors & furnishings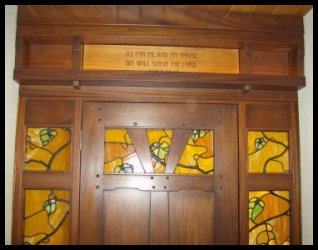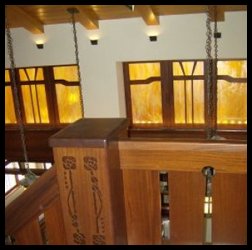 Greene & Greene makeover in Southern California
Includes Doors, ceiling treatments, trestle beams, light fixtures, skylites, staircase, paneling, furniture, built-ins and picture frames

---
FLW * CFA Voysey * Mackintosh * Mackmurdo * Ellis * Gill * Ashbee