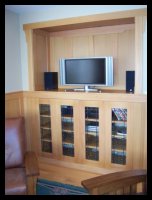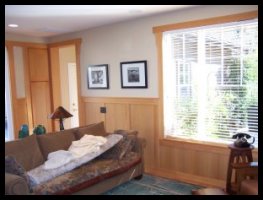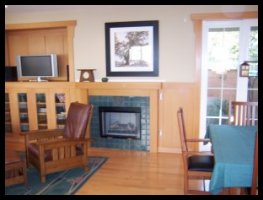 A California Craftsman trim package

Whoever it was that coined the phrase "It's all in the details" must have had the Arts & Crafts home in mind. To truly achieve the proper look it is necessary to
give careful consideration to the trim elements and details. Whether you have a classic Craftsman style bungalow or are building a new Mission style home all
eyes go to the details.

Our trim & detailing capabilities are something that sets us apart from most all of the other shops that produce Arts & Crafts style woodwork. Over the years
I have spoken with literally hundreds of homeowners who have struggled with this particular aspect of finish work for their homes. The primary reason for this is that there are few sources left that can provide authentic A & C millwork details. And even fewer that really understand the subject. Aside from a handful of finish carpenters that have milling capabilities and do this sort of work there are literally only a few commercial sources. And most of these only cover a few of
the basic elements.
Heart of Oak Workshop regularly provides our customers with a variety of custom Arts & Crafts profiles & trim elements. I have been a student of historic
detailing for quite some time and am more than casually interested in achieving the correct results. We have produced many items such as baseboard, chair rail, picture rail, crown, wainscot, door & window casings, hand rail and casework trim. We have been called on to create custom mantles, box beams, trestle beams, ceiling and flooring material as well as stair treads & hollow columns.
In the case of new construction & remodeling projects we have provided partial and complete trim packages. The details for the elements we provide can come directly from an Architects plans or we can work with the homeowner and/or contractor to develop the details. In some instances we have even provided pre-cut, pre finished trim labeled and ready to be fit on site. While this sort of package may seem extravagant it has actually worked out quite well for
many of our customers. Particularly those who want to create the correct level of detail in their home but do not have a contractor that is well versed in these details.

We have provided many similar types of detail elements to our customers involved with restoring or maintaining their authentic homes. These folks are often faced with particularly challenging tasks. This can range from matching precise profiles to recreating details that have been removed or destroyed over the life of their home. While a remote solution is not always practical we have been successful in assisting many people with their important projects.

So if you are looking for Craftsman or Mission style trim or moldings we can help. Want to add a Greene & Greene or Stickley inspired look to your home? We have helped several customers do so. Need special design elements or a "themed" trim package? We have the capabilities to create it.

Please contact me directly if you wish to discuss your project requirements.
Jeff Balazs Owner, Designer & Craftsman